Mumbai:
Archaeologists have discovered more than two dozen well-preserved bronze Greco-Roman deities in the water. These idols are said to be more than 2 thousand years old. These idols found in excavations are nothing less than jackpot for experts.
These sculptures were found in the Tuscany region of Siena province of Italy. The city is 160 km north of Rome. Archaeologists have been exploring the remains of an ancient bathhouse in the area since 2019. Jacopo Taboli, assistant professor at the University for Foreigners in Siena, is the coordinator of the excavation. He said – this is a very important and extraordinary discovery.

Also Read –A call came from the bank, 100 million was deposited in your account, the police officer was shocked
Massimo Osana, a top official at the Ministry of Culture, described the discovery of the sculptures as one of the most surprising finds in the history of the ancient Mediterranean. This is described by Osana after the discovery of Rias Bronze. A large pair of ancient Greek warriors were discovered during that period. It was recovered from a beach in Italy in 1972.
Taboli said that these statues of Hygia, Apollo and other Greco-Roman gods were formerly in temples. But it seems that the idols were immersed in hot water as part of a religious ritual in the first century. The idols were immersed in water because they expected something from the water.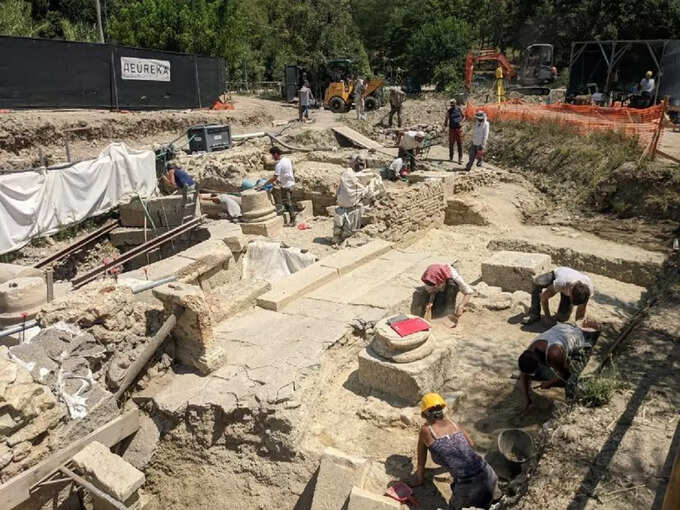 It was a time of great change in ancient Tuscany, the Ministry of Culture said. Because, it was during this period that the Etruscan rule was collapsing and the Roman rule was beginning.
Also Read –Suddenly there was a deafening sound, a ball of fire fell from the sky on the house; What happened that night?
Taboli said that these idols were covered with around 6 thousand bronze, silver and gold coins. San Cassiano's dirty hot water has played a major role in their preservation. Archaeologists said their team found 24 large sculptures. Apart from this, many other small sculptures made of brass have been found.
Thackeray's Lady Raut was about to enter Vanchit, Sushma Andharan tells the story of Vanchit's fiasco