Kolhapur local news | In today's age of social media, something that catches the eye goes viral on social media in an instant. Even a village in Kolhapur is currently experiencing this. RJ of Kolhapur. Sumit is currently very famous on social media due to his wedding card. His wedding card is becoming the subject of many appreciations.
Highlights:
This wedding card of the couple Sumit and Shweta
We see highly stylized text on the Ervi Lagna cards we see
Kolhapur: In today's age of social media, anything that catches the eye or stands out or stands out from the crowd goes viral on the internet in no time. A district in Kolhapur is currently witnessing the same. This cardboard wedding card is currently going viral on social media. Of course, there is a reason for it as well. Because the text on this marriage certificate is written in the special Rangdya dialect of Kolhapur. We see highly stylized text on the Ervi Lagna cards we see. However, the start to end text of this wedding card, which is going viral on social media, is written in a weird way, so there is no need to ask. This marriage card of the couple Sumit and Shweta was liked by many people. So this wedding card went viral in a short time. After that, many people wondered who exactly this marriage certificate should belong to. The answer has come out now. (Marriage invitation card viral on internet)

This wedding card belongs to RJ Sumit from Kolhapur. Sumit and Shweta are getting married on November 27. Sumit, who is famous for his edgy and creepy style, was thinking that his wedding card should be edgy too. Thinking about it, Sumit came up with the idea of ​​writing a wedding card in simple and everyday dialect. Sumit has printed a separate pamphlet in traditional style for his relatives attending the wedding. However, Sumit had a thought in his head that he should have a wedding card that suits his identity on social media. Sumit said that I have written this pamphlet accordingly.

On social media people called me Kolhapur's R.J. Known as Sumit. Then I thought that we should write the marriage certificate in our own language. Then I wrote all the content of the wedding card myself. After that, he gave this magazine to a friend to print it. Sumit said that after seeing my text, he also created a digital magazine suitable for him.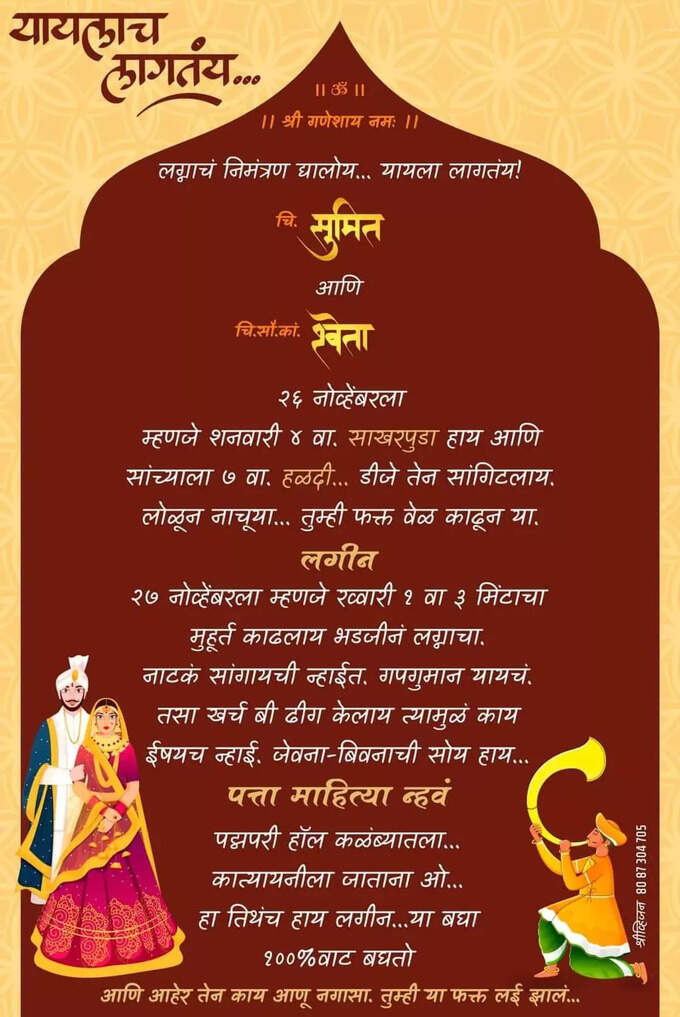 News from the nearest city
Marathi News App: Do you also want to participate in the changes happening around you? Download the Citizen Reporter app and send reports.